Max-Sur-Zenne: Improving the living environment in the Northern Quarter of Brussels
Max-Sur-Zenne: Improving the living environment in the Northern Quarter of Brussels
Something's brewing in the area around Brussels North Station. Max-sur-Zenne is a grand project aimed at improving the living environment of Brussels residents. This initiative focuses on creating a corner of the city where nature thrives, offering residents a tranquil space to easily move around and relax in a pleasant environment.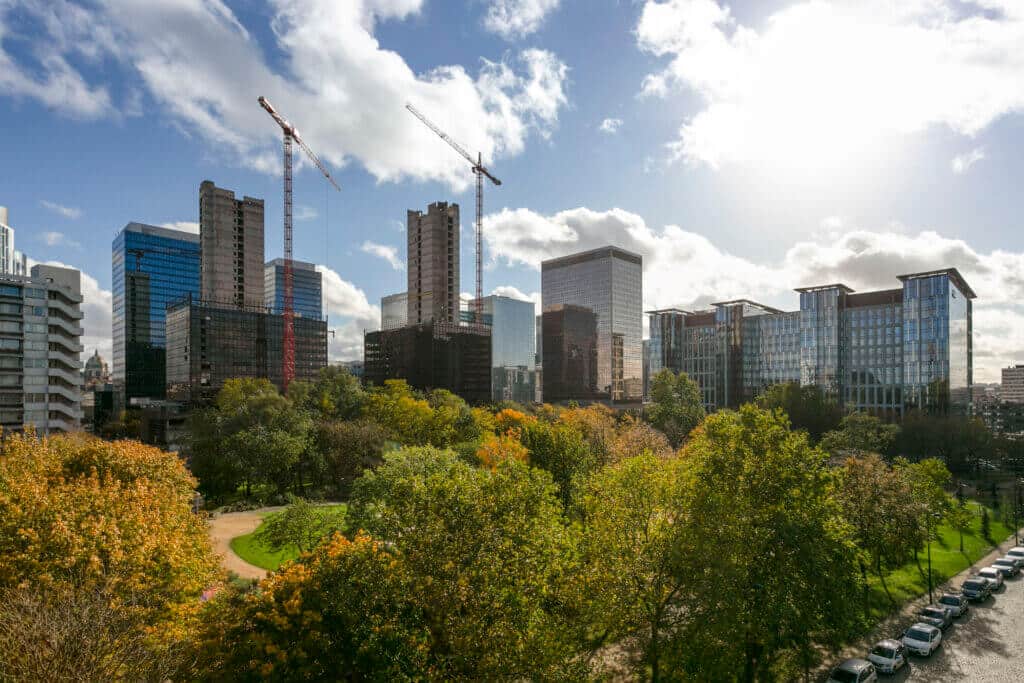 Restoring the Zenne River to it's Natural State
Max-sur-Zenne encompasses various elements aimed at creating a harmonious environment for residents. The centrepiece of this initiative is the renovation of Maximilian Park and the development of a 650-meter stretch along the Zenne River. The Zenne has been flowing underneath the park for years. By allowing it to flow freely in the open air, the project reconnects the community with the natural beauty of the river.
Another key feature of the revitalized Zenne River, is the preservation and transformation of the original tunnel into a picturesque promenade. This long promenade, adorned with lush greenery and vibrant flowers, will stretch from the historic Maximiliaanhoeve to Vergotedok. Consequently, it will offer residents and visitors a scenic pathway to explore and enjoy. Additionally, walkways will be strategically built along the riverbanks, providing opportunities for people to get closer to the water and immerse themselves in the tranquil surroundings.
How Reopening the Zenne River benefits the inhabitants of the Northern Quarter
The benefits of reopening rivers that were once covered extend far beyond aesthetics. The Max-sur-Zenne project recognizes the importance of reconnecting cities with their rivers and the positive impact it has on urban environments. By reopening the Zenne River, Noordwijk and Brussels as a whole will experience several advantages:
Improved Mobility and Connectivity: The project promotes soft mobility, encouraging sustainable modes of transportation such as walking and cycling. Furthermore, the reopening of the Zenne River will also connect different areas of the neighbourhood, fostering a sense of unity and accessibility.
Biodiversity Conservation: By preserving existing planted areas and creating new ones, the project provides habitats for various species. Particularly birds attracted to cool and humid environments. This commitment to biodiversity conservation is crucial at a time when natural habitats are increasingly threatened.
Quality of Life: The revitalization of the Zenne River will contribute to a quieter and less polluted neighbourhood. As a result, residents will enjoy the benefits of a serene and pleasant environment, promoting well-being and a higher quality of life.
The Max-sur-Zenne project is set to commence construction in the first quarter of 2025, We are excited to witness the transformation of the neighbourhood and the positive impact it will have on our residents' lives.
*Disclaimer: The Max-sur-Zenne project is led by Leefmilieu Brussel, Brussel Mobiliteit, and the City of Brussels. Our company is not directly involved in the project but is excited to witness its positive impact on the neighbourhood.
BBF Residences in this Area
Read More